I shared some underrated standalones last week, and this week I wanted to continue with underrated series, I hope you enjoy!
Of course, I'm a huge fan of Percy Jackson, Harry Potter, The Hunger Games. Of course, I have read Divergent and The Maze Runner. But it's always good to hear about something a little bit different, so here is a list of series you may have not heard about, or simply haven't gotten around yet!
The Tara Duncan series by Sophie Audoin Mamikonian
Book blurb: Honestly, it's not the best written series ever, but it's so much fun to read. SAM really created a brilliant universe, and we forgive her her okay-ish style because of that, and because of the fact that yes, it's hilarious, and oh dear, I wish I could live in that world.
You can check out my review of the first book here!
Genres: Children/Young Adult, Fantasy
The Lady Grace Mysteries series by Patricia Finney
Book blurb: Set in England during the reign of Elizabeth the first, the story follows Grace, the youngest lady-in-waiting to the queen, who has a knack for solving murders and mysteries.
I used to love this series as a kid, it has a really great historical context, and you should definitely check it out if you like mysteries!
Genres: Mystery, Historical Fiction, Children/Young Adult
Noughts & Crosses by Malorie Blackman
Book blurb: Set in a parallel universe, this is a story about racism, difference, prejudice and tolerance. Sephy is a Cross, which means she is part of the wealthy population, the ones who rule. Calum is a Nought, his side of the population used to be slaves to the Crosses. They have been friends since childhood, but it can't go further. What makes them so different? Sephy's skin is dark-coloured, Calum's is a colourless member of the society. But their friendship soon turns into a romance with terrible consequences.
I haven't talked about those books on my blog yet, however, they mean a lot to me, because it's probably my first ship ever. Those books made me think a lot, and probably grow up. I read them about 7 years ago and yet I still remember them as if it were yesterday… If you haven't read those, you should definitely check them out!!
Genre: Young Adult, Dystopia, Romance
Pillars of the Earth and World Without End by Ken Follett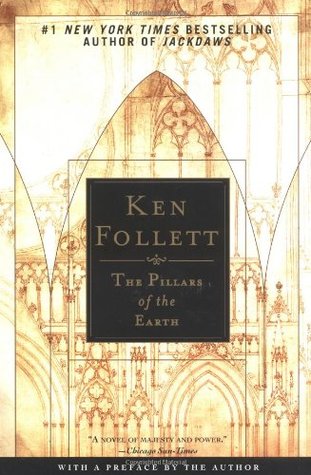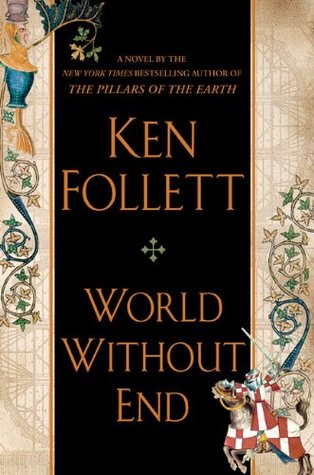 Book blurb: Both stories take place during the Middle Ages and follow life in the town of Kingsbridge, and the building of the cathedral. It follows the life of the builders, the priory, the rich and the poor, between love, hate and intrigues.
These two are another book crush of mine to be honest. I have also watched the series three times. I really want to re read it some day, but it's, ehrm, a bit long. If you haven't read it, though, it's worth the shot!
Genres: Romance, Historical Fiction, Adult Fiction
The 100 by Kass Morgan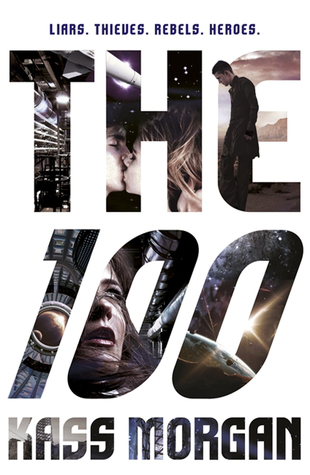 Book blurb: After a nuclear explosion on Earth, people have moved to the sky. They have been there for centuries, but now, their safe haven – the Ark – is dying, and a group of juvenile deliquents is sent to the ground to check if humans can survive on the earth. The narration follows four characters: Clarke, who has been arrested for treason, Wells, the son of the chancellor who got himself arrested to protect Clarke, Bellamy, who got himself on board illegally to protect his sister Octavia, and Glass, arrested because she got pregnant illegaly, who escaped and stayed on the Ark.
If you like The 100 show and ship Bellarke and haven't read the books yet, what are you waiting for? Bellarke is canon! Other than that, the story is actually rather different from the TV show, but it's definitely worth the read.
Genre: Young Adult, Science Fiction, Dystopia, Romance
The Unbecoming of Mara Dyer by Michelle Hodkin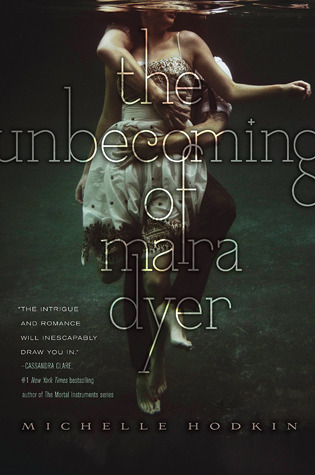 Book blurb: *insert the real summary of the book because it's pretty cool*
"Mara Dyer believes life can't get any stranger than waking up in a hospital with no memory of how she got there.
It can.
She believes there must be more to the accident she can't remember that killed her friends and left her strangely unharmed.
There is.
She doesn't believe that after everything she's been through, she can fall in love.
She's wrong."
A fascinating book with stranger powers, where you never know what is real and what is not… If you haven't heard of this book, where are you living? I hesitated to read it, but oh boy, I was right to check it out, it's amazing.
Genre: Young Adult, Fantasy, Mystery, Romance
The Weaver's Riddle by Claire Marie Lucas
Only the first book is out yet, but I'm already in love with this series!
Book blurb: Four mysterious books resurface in the town of Little Wolf Green, and everyone seems to be fascinated with them. Scott's bookstore is about to close down because they need money, but Anya can't give it up, and decides to follow the quest from the books, bringing along a group of friends… But they are mysteriously sent to another world where the king has wings and the women are missing. To complete the quest, they have no choice but to help them…
This book was first published in September, and will be republished by Oftomes in April, which is the perfect occasion to read it if you haven't yet! It's so refreshing and clever, I loved it, and I can't wait for the sequel.
Genre: Young Adult, Fantasy
Here wee go for this new recommendation post, I hope you liked it, and if you have any recommendation request or idea, please leave a comment!