Hi guys, it's Sunday again, and I am back with a new set of recommendations! Some I have already mentioned in previous posts, some new ones. I have tried to avoid classics such as The Fault in Our Stars, but that doesn't mean I don't recommend it!
Those stories are all contemporaries, and incude romance in different ways! Hope you enjoy! And if you have any similar book to recommend, feel free to do so in the comments!
An Abundance of Katherines by John Green
Book blurb: Colin Singleton has dated 19 girls named Katherine, and got dumped every single time. It's so bad that he even made up a theorem which should predict the outcome of his next relationship. He goes on a road trip wit his best friend, to prove that his theorem is right, and meets a boy named Colin, and a girl not named Katherine…
This was really fun and cute, it's not John Green's most famous work, but if you like his books, you should definitely check it out!
Fangirl by Rainbow Rowell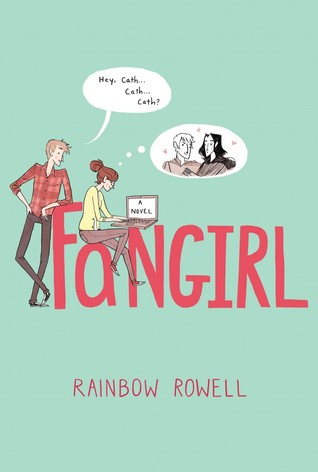 Book blurb: Cath is entering college, and has prepared everything to enjoy her new life with her twin sister, except Wren decides she also wants to live a bit on her own, and Cath has to share her dorm room with a complete stranger. Feeding herself with energy bars and writing fanfictions about her favourite hero Simon Snow, Cath silently starts her college years. Until her roommate Reagan decides it's time to get out of her room…
I loved this book. It's really cute and so incredibly relatable…
All the Bright Places by Jennifer Niven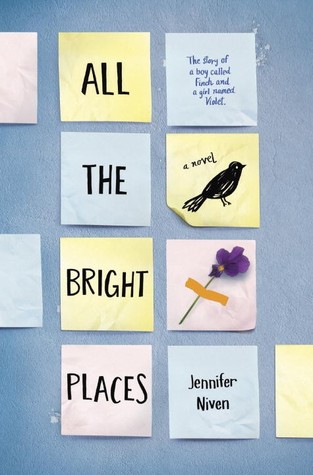 Book blurb: "All the Bright Places is the love story of a girl who learns to live from a boy who wants to die." Theodore Finch is fascinated by death. Violet Markey is devastated by her sister's death. Everything separated them. Except when they meet on the Bell's Tower, and their lives begin to change.
This book is so heartbreaking, but definitely beautiful! You should definitely check it out if you haven't read it yet!
Check out my review here!
The Beginning of Everything by Robyn Schneider
Alternative title: Severed Heads, Broken Hearts
Book blurb: Ezra Faulkner believes everyone gets a tragedy. After a car accident, he lost his athletic career and broke up with his girlfriend. He stopped talking to his friends, not feeling worthy of sitting with them at lunch, not ready to face them after such a big change in his life. He ends up going back to his ex best friend Toby, and meets new girl Cassidy Thorpe.
This book is both fun and deep, it's a really beautiful coming of age story about new beginnings… Not everything will be the way you expected it, and that's what makes it so good! If you're looking for a book about friendship, then go for it!
Check out my review here!
Anna and the French Kiss by Stephanie Perkins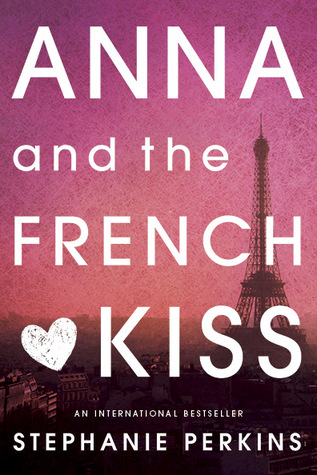 Anna is ready to start her Senior year of high school with her friends, except her father has decided otherwise: she will spend it in Paris, at the American school there. Anna has no choice but to follow, and make new friends there. And she also meet Etienne St Clair, the boy with the French name and the English accent…
Okay, that was a pretty bad summary. If you haven't heard of Anna and the French Kiss, then you're definitely missing out. I know the title of this book sounds incredibly cliché and ridiculous, but the book itself is incredibly amazing (I read it in one day). It's a really cute story, and it also has a bit of a deeper meaning, since we see the characters evolving and growing through the book. Highly recommended!
Along for the Ride by Sarah Dessen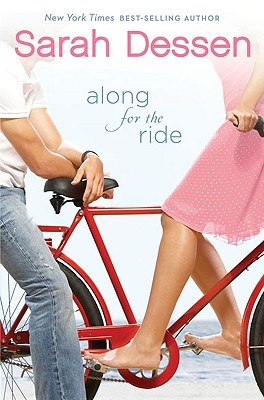 Book blurb: It's been ages since Auden slept at night, and she likes to spend the night outside. This is her last summer before college and she is going to spend it in another town, with her father. She discovers new things and makes new unexpected friendships…
Okay, I read it a long time ago, and I need to re read it some day. This book has a special place in my heart forever, I found it so beautiful! Recommended as a summer read ♥
Memoirs of a Teenage Amnesiac by Gabrielle Zevin
Book blurb: When Naomi wakes up in the ambulance, she has lost her memory, and the boy sitting next to her tells her he is her boyfriend. It will turn out he is not. But maybe she will want him to. And she will have to face the person she does not remember being, and all that happened to her in those few years she can't remember…
Sorry about the shitty summary, I swear it's better than I made it sound. It's a light read, and really interesting. Maybe it's sometimes a bit of a cliché, but it was a really nice story nevertheless!
And this is the end of my recommendations for this week, I hope you enjoyed! I know I have already featured some of the books in previous articles, and I always try to include new and original titles, but sometimes the book really fits the prompt and I can't help but share it again…