I picked some books that were a little more obvious this time, and some that were less known, I hope you enjoy! I really like dystopias (I even attended a conference about them recently, it was amazing) so I thought it would be nice to make a post just for them.
The Hunger Games by Suzanne Collins
Do I really need to tell you what it is about? Come on, if you have never heard of that one, you must be living on Mars… If you haven't read those books, you are definitely missing out!
The Maze Runner by James Dashner
Book blurb: The Maze Runner is another one of those famous dystopias. One day, Thomas wakes up in a maze full of teenage boys. He remembers nothing but his name. But somehow, he seems to be different from the others. Things get even more complicated when a girl shows up the next day, and recognizes Thomas before falling into a deep coma… But the maze is attacked by dangerous creatures called grivers, and its inhabitants, who called themselves the Gladers, need to get out…
I have reviews the prequel The Kill Order here.
Divergent by Veronica Roth
Book blurb: Third famous dystopia series. The third movie was released recently, and you probably know the story already. Chicago is divided into five section: Abnegation, Dauntless, Erudite, Candor, Amity. Each person must fit into one category. But Tris doesn't. She is Divergent. And no one must know about it.
You can check out my review for Allegiant here!
Noughts & Crosses by Malorie Blackman
Book blurb: Set in a parallel universe, this is a story about racism, difference, prejudice and tolerance. Sephy is a Cross, which means she is part of the wealthy population, the ones who rule. Calum is a Nought, his side of the population used to be slaves to the Crosses. They have been friends since childhood, but it can't go further. What makes them so different? Sephy's skin is dark-coloured, Calum is a colourless member of the society. But their friendship soon turns into a romance with terrible consequences.
I know I already mentioned these series in a previous post, but they fit in the Dystopia category, so here we go again. These books are absolutely amazing, so if you haven't read them yet, go check them out!
The Giver by Lois Lowry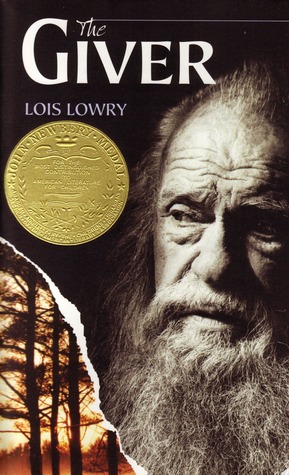 Book blurb: The society is in black and white, and determines what job you will get, who you will marry, what you will become. Except Jonas is not like the others. On his coming of age day, he becomes an apprentince to the man who holds all the memories of the society. He calls himself the giver, as he will give all those memories to Jonas, and the boy's life is about to be transformed…
This book is known as one of the first YA dystopias, and it is absolutely amazing! You can check out my Book vs Movie article here.
The 100 by Cass Morgan
Book blurb: postapocalyptic novel, which starts in the space. A few centuries ago, Earth was destroyed by bombs and radiations, and several countries moved to the Ark, a new home in the sky. But the Ark is dying, and the government decides to send a hundred delinquents who have been considered expendables on the Earth, to see if it's survivable…
The Selection by Kiera Cass
Book blurb: America Singer is a 5, but she is in love with her neighbour, Aspen, who is a 6. Which means she cannot marry him. The royal couple is looking for a bride to be, for their son and heir Maxon. They are looking for girls all across the country, and Aspen enoucrages his girlfriend to put her name in the draft. America agrees, only for the food which would be provided to her family if she were to enter the Selection. And along other girls from the realm, she is selected to go live at the castle, and wait for the prince to pick his future wife, and ensure the future and the peace of the kingdom…
I know this book has mixed reviews but I really like it, and I find America rather relatable and human. You should definitely check it out!
I'll be back with new recommendations next Sunday! Have a nice week!
Feel free to share your favourite dystopias below, and ask any question if you'd like ♥