For this edition of my Sunday Recommendations, I have decided to share some classics that I loved, and which are definitely must-reads in my opinion. If you want to read classics, and you don't know where to start, here are seven ideas you can check out, and you won't regret it!
I have included Anglo-Saxon literature as well as French and Russian literature… Enjoy, and feel free to comment which are your favourite classics in the comments below!
Jane Eyre by Charlotte Brontë
Book blurb: Jane grows up in an orphanage where she later becomes a teacher, until one day, she moves out to become the governess of a little girl. There, she meets Mr Rochester, who is not handsome, just like she is not beautiful. And you have probably heard about their love story.
Wuthering Heights by Emily Brontë
Book blurb: Wuthering Heights is a tragic story of love, money and revenge. Young Heathcliff was raised with Catherine and her brother, and slowly he falls in love with her. However, when she decides to marry the next door boy – who is obviously wealthier than he is – he feels betrayed, and here starts his tale of revenge (especially since Catherine's marriage is not happy at all). Another epic love story!
Pride and Prejudice by Jane Austen
Book blurb: Mr and Mrs Benett have five daughters who are in age of getting married, so when two rich and handsome bachelors move in the neighbourhood, Mrs Benett is delighted. Because everyone knows this famous quote: "It is a truth universally acknoledged that a young man in possession of a great fortune must be in search for a wife." However, Pride and Prejudice is also more than a love story, it's also an interesting study on the society of the time. And for sure, Darcy and Elizabeth's story is not an easy one…
Anna Karenina by Leo Tolstoy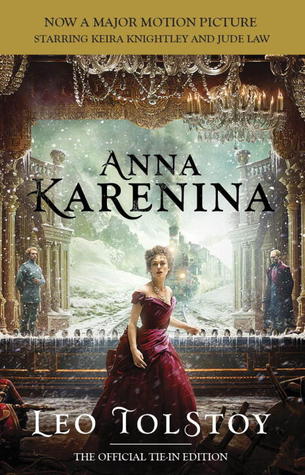 Book blurb: Anna Karenina is an interesting study of the Russian society in the second half of the 19th century, with many characters. Anna, the main character, is an unhappy mother who ends up cheating on her husband with the handsome Vronsky, and their liaison becomes a famous one. Meanwhile, Levine the idealistic falls in love with the innocent Kitty. We follow them through the years, and while of course the story concentrates on the love story aspect, it also shows how Russia evolved at the time.
The Ladies' Paradise by Emile Zola
Book blurb: Set in Paris in the 1860s, The Ladies' Paradise is probably Zola's only work with a happy ending. Denise, the main character, arrives in Paris with her brother to live with their uncle, who owns the small shop. However, with the development of the next door department store, all small shop owners of the neighborhood are forced to close, one after another, and Denise, even though she feels she doesn't fit in, becomes an employee at the Ladies' Paradise. The business owner, Octave Mouret – who has a bad reputation among women – starts taking interest in her.
Alice's Advendures in Wonderland by Lewis Caroll
Book blurb: Who doesn't know the story of Alice in Wonderland? Bored, in her garden, she noticed a rabbit running and saying it was late, and she decided to follow him down the rabbit hole, where she encountered weird potions and weird animals, as well as the dangerous Queen of Hearts… If you haven't read this one yet, what are you waiting for?
W or the Memory of Childhood by Georges Perec
Book blurb: Through two parallel stories, one autobiographical, and one entirely fictional, describing an island dedicated to sports, the narrator leads the reader to realise the horror of concentration camps during WWII. This book is deep and amazing. Read it, it will change you.
And that's all for this week! See you next Sunday with another theme! And meanwhile I'll carry on with my reviews and stuff… Have a nice week!