So this week I'm going to share 7 more titles, with a topic that is dear to my heart: Children's books! You most likely have heard of those, and if you haven't read them, then I will just advise you to stop everything you were doing – before reading my article, don't stop reading it – and just go get those books and read them! You won't regret it!
The Harry Potter series by J.K. Rowling
These are book 5 and 6 of the French edition.
Book blurb: Harry has been raised by his aunt and uncle who have always told him that his parents were killed in a car accident, and this is where he got the strange scar on his forehead. But Harry is different, he has noticed it. Weird things happen around him sometimes, like the time his hair grew back in a night, or the time he released a boa constructor from the zoo. And this is confirmed when he receives a letter of acceptance from Hogwarts School of Witchcraft and Wizardy. Could he have magical powers?
The Percy Jackson series by Rick Riordan
Book blurb: Percy grew up with his mother and her unpleasant husband whom he calls Smelly Gabe. He keeps having trouble at school, and has to transfer to different schools every year. On a visit to the museum, his maths teacher turns into a monster and attacks him… But after they go out of the museum, no one remembers her. But Percy is sure of what he saw. Over the summer, strange things happen again, and Percy moves to Camp Half Blood, and discovers why he grew up without a father. There might also be a prophecy concerning him…
Boy, I love those books so much. I need to read all Riordan's new books, because I love his stories. But you know, so many books, so little time…
Alice's Adventures in Wonderland by Lewis Caroll
Book blurb: Who doesn't know the story of Alice in Wonderland? Bored, in her garden, she noticed a rabbit running and saying it was late, and she decided to follow him down the rabbit hole, where she encountered weird potions and weird animals, as well as the dangerous Queen of Hearts… If you haven't read this one yet, what are you waiting for?
His Dark Materials series by Philip Pullman
Book blurb: Lyra is an orphan and her life is transformed when she is left in the care of the mysterious Mrs Coulter. She discovers a world where things are not what they seem. Suddenly, her friends are missing, and children are detached from their animal soulamtes – or "daemons" – and Lyra discovers how dangerous the world is. She leaves for the north, and tries to save her best friend…
I know, that was a bad summary. I read those books so long ago, but I'll never forget them. They're truly brilliant…
The Chronicles of Narnia by C.S. Lewis
Book blurb: You may have heard of Lucy Pevensie, the girl who discover a whole knew world at the back of a wardrobe. But did you know sons of Adam and daughters of Eve came to Narnia before her? A generation before, Polly and Diggory were travelling through realms with magical rings, and stumbled across the birth of Narnia. And after them, other kids came, and helped the magical kingdom with Aslan…
I love and cherish those books so much. It's a pity they aren't that popular, because oh boy, they deserve all the praise in the world! And I love reading interesting theories about those on tumblr and everywhere on the Internet. If you love Narnia PLEASE comment below so we can talk about it!!
A Series of Unfortunate Events by Lemony Snicket
Book blurb: The Baudelaire siblings are orphans, and left in the care of their uncle. Except that even though at first they are glad that family is taking care of them, the odious man has other plans for them… Plans that include getting their inheritance…
If you have never heard of these series, I strongly advise you give it a shot. You don't have to read all the books, but man, they are so special, it's worth checking at least the first one out! You will laugh and cry, I swear it's amazing.
The Chronicles of Spiderwick by Holly Black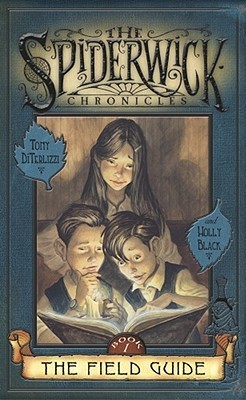 Book blurb: The three Grace children and their mom move out into their aunt's house and discover weird things and weird creatures…
Another series I read a long time ago, and it was amazing as well! (except that I don't remember that much from them, except there were strange creatures, and I know I loved those books…)
And here we go for this week, I hope you enjoyed!