For some reason, I find that summer is the time to read contemporaries. This list is mostly made of YA titles, but I also tried to include some adult reads… Hope you enjoy! Feel free to comment with your favourite summer reads!
*****
The truth about forever by Sarah Dessen
Book blurb: While her (boring and predictable) boyfriend is away at Brain camp, Macy plans on spending the summer working at the library. It's extremely boring, but she doesn't mind, and plans on keeping it that way – it's predictable, and it's not risky, just how she likes things. But unexpected things start happening, and she ends up getting a job at Wish Catering. She even ends up enjoying it, and starts questioning her choices…
This was a really lovely summer read combined with a great coming-of-age story, the characters are endearing and relatable, I really need to reread this some day!
Along for the Ride by Sarah Dessen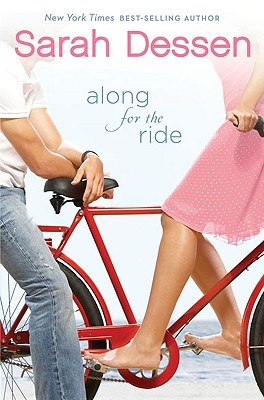 Book blurb: It's been ages since Auden slept at night, and she likes to spend the night outside. This is her last summer before college and she is going to spend it in another town, with her father. She discovers new things and makes new unexpected friendships…
Another Sarah Dessen book, and definitely one of my favourites ever… Again, it's a summer read and coming-of-age story, and these are probably my favourites. I really love Sarah Dessen's book, they just feel so relatable ♥
Us by David Nicholls
Book blurb: Douglas and Connie have been married for about two decades, and are planning a trip around Europe with their 17 year old son Albie, when she tells him she thinks she wanted a divorce. Against all odds, they decide to go on the trip anyway, and don't tell their son. Douglas secretly hopes the trip will help his wife fall back in love with him, but as expected, the trip doesn't quite go quite as planned…
This book is brilliant. Clever and moving, and cleverly written… It also has a bunch of interesting twists. And it's an amazing trip through Europe. (note: this one is more of an adult read than YA but if you feel confident, and if you loved One Day then just go read it, you won't regret it!)
All the Bright Places by Jennifer Niven
Book blurb: "All the Bright Places is the love story of a girl who learns to live from a boy who wants to die." Theodore Finch is fascinated by death. Violet Markey is devastated by her sister's death. Everything separated them. Except when they meet on the Bell's Tower, and their lives begin to change.
This book is so heartbreaking, but definitely beautiful! I know, it's not as happy as the other ones I featured, but it's full of adventures and beautiful characters. If you haven't read it, what are you waiting for?
Check out my review here!
An Abundance of Katherines by John Green
Book blurb: Colin Singleton has dated 19 girls named Katherine, and got dumped every single time. It's so bad that he even made up a theorem which should predict the outcome of his next relationship. He goes on a road trip wit his best friend, to prove that his theorem is right, and meets a boy named Colin, and a girl not named Katherine…
This was really fun and cute, it's not John Green's most famous work, but if you like his books, you should definitely check it out!
The Sisterhood of the Traveling Pants by Ann Brashares
Book blurb: Four girls, one jean. That's what this book is about. Four best friends discover a jean they all fit in, and decide to keep it an share it. Through the summer, they mail it to one another and all live wonderful adventures wearing it.
This book is a fun, light read. It also has four sequels, and they were definitely enjoyable, and a perfect read for the summer!
The Help by Katheryn Stockett
Book blurb: Set in Mississippi in the 1960s, The Help follows the intertwined lives of three women, Skeeter, a white young lady who just graduated from college, and comes home to find the maid who raised her is gone, and Minny and Aibileen, two black maids, as the three women have to deal with the suffocating lines of what they have to do and not do.
The only book on that list that is not a contemporary, and yet it still feels fitting, either because it includes hot weather, or simply because I finished it last summer… Anyway, summer or winter, this book is a must-read!
*****
And I know there are many more summer contemporaries I have yet to read!