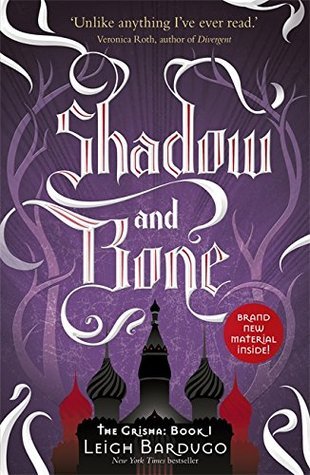 Author: Leigh Bardugo
Publication year: 2012
Genre: YA, Fantasy, Romance
Rating: I gave it ★★★★☆ on Goodreads, but my actual rating is more 3.5 ★
The story:
Alina and Mal grew up together in an orphanage, and went to the army together, in a country ruled by a weak king and his strong ally, the Darkling, the strongest of the Grisha. The Grisha are the elite, gifted with the power of Small Science, they are able to transform the elements, and each has his very own special gift.
The kingdom of Ravka is divided by the dangerous Shadow Fold and its mounstruous inhabitants the Volcra. When Alina and Mal's regiment is attacked by the monsters, Mal gets hurt, and Alina reveals a power she has unconciously hidden ever since her childhood: she is Grisha too, and not any Grisha. She is a Sun Summoner. Could she free the kingdom from the Shadow Fold?
Taken away from her best friend and everything or everyone she knew, Alina moves to the Little Palace, where she starts training with the other Grisha, and discover the extent of her powers, as well as the plans the Darkling has in store for her…
My opinion:
I got the ebook on a 99cent promo on Amazon (I can't resist cheap books!) and I had heard so many things about it in the bookish community, I had to get it. Now, I don't know exactly what I expected, but one thing is sure, this book was a great read, though for some reason, I didn't enjoy it as much as I thought I would. I don't know. There were some moments where I felt that I was totally in love with this book. But I guess the Darkling doesn't really works on me, and that's probably what kept me from enjoying it as much as other people did! I don't know, sometimes it felt a bit disturbing.
Overall, Bardugo created an amazing universe with the Grisha world. It sounds like a mix between Russia and magic (with crazy powers and bits of Red Queen) and I just love this kind of universe. The snowy landscapes as well as Alina's power totally got me.
The plot is really interesting too, though sometimes predictable. I'm really curious for the other books, and I have to admit I wonder if I will end up liking the Darkling like everyone else (because so far, I just think he is mad and creepy… Yeah, there's not much hope for me liking him.)
Alina is your typical YA heroine who suddenly feels the weigh of the world on her shoulders. From plain, she is thrown in the spotlight and has to deal with newfound powers and intrigue. Even if she is just so typical, I found her rather endearing and relatable. Overall, I really liked the decisions she took. She has my total approval, and I really like her.
My favourite character is probably Mal, though. He feels so alive, and human, and strong. Like Alina, I find him relatable. And he has already gone through so much, just in the first book, I really want to give him a hug and a cup of hot chocolate ♥
Anyway, I have mixed feelings about this book, I find it hard to figure out what I thought of it, actually. Some part of me is screaming THIS BOOKS WAS AMAZING but there's this other side that's telling me nooo, the Darkling is so creepy and awful as well as nope it could have been better. I am confused. I guess I'll just have to read the other books to figure things out, because I am still very curious!
Recommended for:
YA and Fantasy lovers who like a good story with a handsome villain.
Feel free to comment your opinion below, let's discuss! (no spoilers please!)