This week's edition of my Sunday Recommendations is featuring Magical Realism, which turns out to be a bit different from what I have posted before, and it's GREAT. I think all these books fit in the theme each in their own way. Feel free to add your own recommendations in the comments, and happy reading!
*****
If on a Winter's Night a Traveller by Italo Calvino
Book Blurb: If on a Winter's Night a Traveller is a unique and experimental book which directly adresses the reader and takes them into the story, and on a quest for different manuscript. They travels between different stories and try to find out their ending…
This book is something special. It's extremely smart and hard to put down. It's easy to get into the story since you become part of it. Definitely a must-read!
Deathless by Kathryn Valente
Book blurb: Between history and mythology, Deathless follows the story of Koschei the Tsar of Life in his war against the Tsar if Death. It also follows Marya Morevna, a child of the Revolution, as she becomes his brides and then becomes a general. Between folklore and history, this book is absolutely amazing ♥
Pedro Paramo by Juan Rulfo
Book blurb: This book takes you to a deserted village in the middle of nowhere, where the main character is trying to find his father, Pedro Paramo. We are transported to a land of inbetweenness, where it's hard to know if what you're actually reading is the truth, a dream, a ghost, the past, and I think that's what makes the book so interesting. It's beautiful, unique, and fascinating.
(And you can check out my full review here)
El Jardin Devastado by Jorge Volpi
(also pictured on the above picture, they are both French editions)
Book blurb: This book follows two storylines, which are intertwined. In the first one, the narrator is a Mexican intellactual, who lives between his home country, Europe and the United States. His story line mostly follows his love life, and his – if I may – boring life. The other storyline follows that of an Iraqi woman, Leila, who just lost her father, her husband and her baby boy because of war and terrorism. She is desperate, and takes the road to find the remaining members of her family. On the road, she meets a djiin, who agrees to help her under one condition… (full review)
Landline by Rainbow Rowell
Book blurb: Georgie and Neal have been (more or less) happily married for years, and have two lovely daughters when things start getting rough. Right before the family is supposed to go on a Christmas holiday with Neal's grandmother, Georgie has to make a choice: a producer has agreed to produced the show she has been working for years with her best friend Seth. Except the meeting is right in the middle of the holidays, and she decides to stay behind. This is the second Christmas Neal and Georgie spend apart since they started dating in college. The fist one was many years ago, and ended in Neal proposing to her. But this time it's different. Or is it? When Georgie calls Neal's childhood home with the old landline, strange things happen… Will Georgie be able to change the past?
I absolutely adored how sweet this book was. You ca check out my review here!
Shadow and Bone by Leigh Bardugo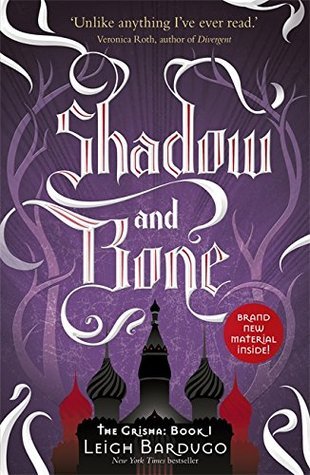 Book blurb: Alina and Mal grew up together in an orphanage, and went to the army together, in a country ruled by a weak king and his strong ally, the Darkling, the strongest of the Grisha. The Grisha are the elite, gifted with the power of Small Science, they are able to transform the elements, and each has his very own special gift. The kingdom of Ravka is divided by the dangerous Shadow Fold and its mounstruous inhabitants the Volcra. When Alina and Mal's regiment is attacked by the monsters, Mal gets hurt, and Alina reveals a power she has unconciously hidden ever since her childhood: she is Grisha too, and not any Grisha. She is a Sun Summoner. Could she free the kingdom from the Shadow Fold? Taken away from her best friend and everything or everyone she knew, Alina moves to the Little Palace, where she starts training with the other Grisha, and discover the extent of her powers, as well as the plans the Darkling has in store for her…
I absolutely loved the setting of this book, between historical and magical, it just feels so real, and yet impossible… Anyway, you can check out my review here!
Before I Fall by Lauren Oliver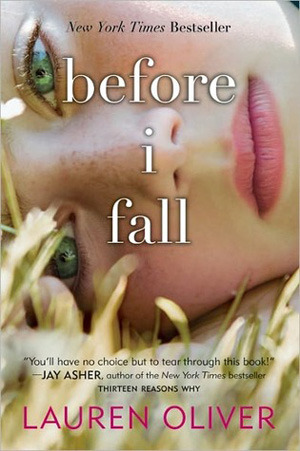 Book blurb: The story takes place on February 12, also known as Cupid Day, a day where everyone at school sends and gets roses. For popular girl Samantha Kingston, it should be the best day of the year. Except at the end of the day, this time, she dies. But she wakes up again the next morning. Or is it the next day? She has to relive the day of her death, and she has the keys in her hands if she wants to change it…
I know this book has mixes reviews, but for me, it was definitely worth the read! I just loved how real and impossible it felt at the same time…
*****
And these were my 7 picks for this week! I'm thinking of making a poetry edition for next week, if you have any idea of theme I could share in the future, please do tell me!