It's that time of the week again when I post my recommendations… This was another list suggested by My Book-A-Logue, and I really liked the idea, as I'm a huge fan of historical fiction and I'm particularly interested in the twentieth century and all that evolves around World War Two.
I have managed to find seven books related to the subject, and they are all amazing reads! I'm pretty sure I have read others that were related as well but I couldn't remember… I know the title says fiction, but this period also includes many great non fiction books, so I have also included two of them. Anyway, I hope you enjoy my picks, and without further ado, here they are!
*****
The Book Thief by Markus Zusak
The story takes place during WWII and follows Liesel, who has been left behind by her mother in a family she doesn't know, in a town she doesn't know. Soon she meets the next door boy Rudy, and they become friends. She also discovers she has a passion for reading, and so much more… This book is about friendship, about growing up, and it also involves a Jew hidden in the basement. If you haven't read it yet, I highly recommend it, it is just the perfect example of why I love historical fiction so much!
The Reader by Bernard Schlink
This is another popular book, and it is popular for a reason, as it is definitely a must-read! The main character, Michael, met a woman called Hannah and fell in love with her when he was a teenager. He would come to her place, read her books, and they would spend some time together. However, one day she disappeard, and when he meets her again, he is a law student, and she is accused of war crimes she doesn't deny, and it seems to Michael she is hiding more secrets than he could possibly imagine…
The main plot is set after the war, but it includes many flashbacks and events linked to the war so it is definitely a WWII fiction, and an amazingly beautiful one too.
Memoirs of a Geisha by Arthur Golden
Memoirs of a Geisha is set in Japan and goes from around the 1920s until around the 1970s and follows the great Geisha Sayuri on her journey to become the woman she became. I have included it in this list because part of it is set during WWII and I think it's interesting to read about war from the other side of the world. If you haven't read this book, I would definitely recommend it!
Sarah's Key by Tatiana de Rosnay
Paris, Summer of 1942. When the police comes to the door to take her family away because they are Jews, Sarah hides her little brother in the bedroom cupboard, and promises she will come back for him as soon as possible. Six years later, a journalist comes across her story and tries to understand.
This book is so beautiful and heartbreaking, it made me cry so much, and yet it was totally worth it! Definitely a 5 stars read for me, and a must-read for historical fiction fans and WWII nerds…
The Guernsey Literary and Potato Peel Pie Society by Mary Ann Schaffer and Annie Barrows
That is a hell of a long title of a hell of a great book, and don't judge it by its title, it is actually a rather serious story. Like other books in this list, the main plot is actually set after the war. The main character is doing some research, and ends up curious about the island of Guernsey and how they lived during the war. This novel is in epistolary format and retraces how the inhabitants of Guernsey survives the hardships of the war… I actually read it quite a long time ago, and it's a book I would recommend it to everyone as it is quite an easy read! I made my mom read it actually, and she loved it. It is such a beautiful story, and a great historical fiction.
A Bag of Marbles by Joseph Joffo
To be honest, I read this book a very long time ago and I don't really remember it. It is the story of Jewish boys fleeing the Nazis, and it is a really fantastic book, and it is actually a memoir rather than a novel. I found it very moving and can only recommend it… I really need to reread someday now that I have matured (though I will probably ending crying my heart out, it will be worth it!)
Anne Frank's Diary of a Young Girl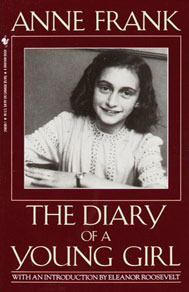 I could not have made this article without including Anne Frank's diary. I read it when I was in 9th grade I think, and I remember it took me a very long time reading it, but never did I regret it. In case you don't know, Anne Frank was a Jewish girl living in Amsterdam with her family, and when the Nazis started taking the Jews, they decided that instead of fleeing the country, they would go in hiding, and they lived there for around two years with another family. The diary retraces Anne's thoughts and observation on their unique daily life, until they were arrested… If you are curious about WWII then you should definitely check this out, this book will change you.
*****
That's it for this week, I hope you enjoyed! Feel free to recommend me any other WWII fiction as I love them!
Have a great day ♥
And if you'd like to check it out my latest booktube video, here it is!