This week I found a new topic! I am leaving Paris soon to live in Berlin for my studies (for a year) and I just want to do all things Paris before I go. I wanted to find book in Paris, in the end, some of them just visit it for a short amount of time, but I thought it would be an original idea! It's a mix of French books and English/American ones, I hope you enjoy!
*****
Us by David Nicholls
Genre: Adult Fiction, Contemporary
Us is the story of a family on a verge of falling apart, and they decide to go on a trip around Europe. One of these stops obviously has to be Paris, and it also brings back memories of the couple at their beginning. It is a truly beautiful and moving story, I definitely recommend it if you like travel stories and such!
Anna and the French Kiss by Stephanie Perkins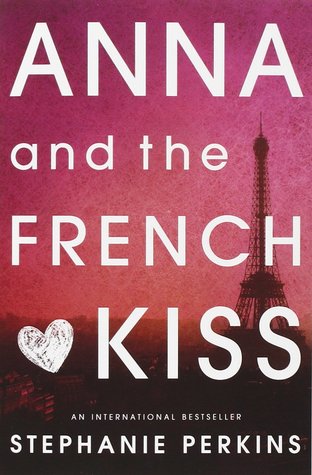 Genre: YA, Romance, Contemporary
If you haven't heard of Anna and the French Kiss, you must be new in the bookish community. This is the story of an American teenager, Anna, whose father has decided to move to Paris for a Senior year of high school, to experiment new things and learn French. There, she meets new friends, and unexpectedly falls in love… As cheesy as the title sounds, this book is amazing and really refreshing. I absolutely loved it!
The House that I loved by Tatiana de Rosnay
Genre: Adult Fiction, Historical Fiction
Set during the 19th century, The House that I loved follows the story of an old lady, Rose, whose house is supposed to be destroyed because Haussman is remodeling the entire city of Paris (to become the city you know today). But Rose doesn't want to leave her house, because this is where all the memories of her past life are, and her family. This is a very beautiful and moving story, I really loved it.
The Ladies' Paradise by Emile Zola
Genre: Classics, French Literature
One of my favourite classics, by one of my favourite authors. The Ladies Paradise is also set during the 19th century, and it follows the story of Denise, who comes to Paris from the countryside in order to find a job. She ends up finding work at this new place, The Ladies Paradise, which is a newly created depatrment store (it actually exists and is called Le Bon Marché) but she realises big businesses like this one are destroying the small ones, like the one her uncle works at. Things get complicated when her boss, who is a reknowed player, falls in love with her…
Bel-Ami by Guy de Maupassant
Genre: Classics, French Literature, Coming of age
Another book set during the 19th century (which is my favourite period in terms of French literature). A young man wants to become a journalist and will do everything to become a successful one, including using the women he meets. It's a really smart book, and an interesting deptiction of the  Parisian society at the time.
Zazie in the Metro by Raymond Queneau
Genre: Fiction, Modern Literature
Zazie in the Metro is the crazy story of a little girl who comes to Paris to visit her uncle for the weekend. This book is weird and funny, and I recommend it if you are looking for something unique and original. It follows Zazie as she visits Paris with a bunch of weird and original people, and all weekend long, wants to take the metro.
The Devil wears Prada by Lauren Weinsberger
Genre: Adult Fiction, Chick-Lit
Many of you have probably hear of The Devil Wears Prada because of the movie with Anne Hathaway and Meryl Streep, well know that it is a book first. It follows Andrea, who wants to become a journalist, and ends up working at fashion magazine RUNWAY while she has absolutely no fashion sense. And of course, since Paris is knowed for its fashion, there will be a trip to Paris…
Scarlet by Marissa Meyer
Genre: YA, Fantasy, Dystopia
Scarlet is the second volume in The Lunar Chronicles, and it follows Scarlet Benoit, who lives in rural France, and crosses the country to find her grandmother who has disappeared, and she travels with a mysterious and dangerous street fighter called Wolf, whom she just met, but apparently knows things that can help her. And since I am French, I always find it funny when my country is involved in books not written by French authors, and I absolutely loved that one, so I had to include it on the list.
The Count of Monte Cristo by Alexandre Dumas
Genre: Classics, French Literature, Adventure
One last French classic to conclude this list. This one is a giant chunk of a book, written by the author of The Three Musketeers (which I still haven't read, shame on me). It is a story of love and revenge, and a fascinating book. The main character Edmond Dantès, is falsely arrested because his friends were jealous of him, and he is sent to prison on an isolated island, where a jail companion tells him of a secret treasure. One day, he manages to escape and find the treasure. He then enters the wealthy parisian society and works his way through his revenge.
*****
I know I didn't include seven books like I usually do, but since this week's theme is a bit different from what I usually do in my recommendations, I decided it was okay. I'm sure I've read plenty of other books that are set or partly set in Paris, but these are the only ones I could think of for now. And that's it for this week's recommendations! I hope you found ideas to add to your TBR, please feel free to comment with any suggestions or recommendations, and have a great day!