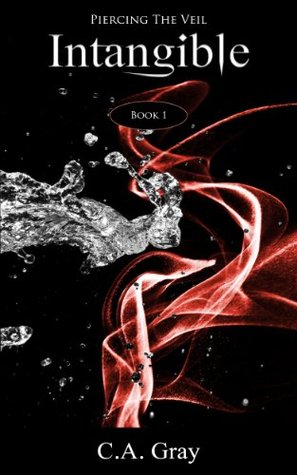 Intangible is the first book in the Piercing the Veil trilogy by C.A. Gray, which is a modern retelling of the legend of King Arthur and the Round Table. As a member of the author's street team, I was sent an e-copy in exchange for a honest review. This is my second C.A. Gray book (the first one I read was The Liberty Box) and I have to say, I enjoyed it much better!
Genre: YA, Fantasy, Retellings
My rating: ★★★★☆
Publication year: 2013
C.A. Gray's website: http://www.authorcagray.com/
(If you subscribe to her newsletter, you will receive this book for free!)
And her twitter account: @AuthorCAGray
The story:
Peter, the main character, is a 14 year old science nerd, who is bored at school and always starts explosive experiments in science class. He never felt like he really fitted in, but this is his life and he is used to it. As a child, his father – who raised him alone – repetedly told him the tales of King Arthur and the Knights of the Round table. But when he turned seven, he asked his father to stop, because he wouldn't believe in the legends anymore.
But one day at school, a new girl, Lily, shows up, and the stories of the nimbi and the penumbra that his father used to tell him become possible. (Book trailer video)
My opinion:
First of all, how gorgeous is this cover? I just love it so much.
Now, back to the story. I started this book with two different prejudices, the first being that I hoped I would like it better than The Liberty Box, and the second one being that I hoped I would like it because I love Arthurian legends and retellings. Well, I wasn't disappointed. This books takes the original legend as we more or less know it, and adds a twist. In modern day, people are waiting for the Child of the Prophecy to show up, a descendant of King Arthur who would finish the task his ancestor started.
Harry Potter feels set aside (the child of the prophecy, and the hidden magic mostly) this book was really fun, original and enjoyable. I really like the characters, especially Lily, who is really endearing and kind of relatable. Peter is clearly a hero-who-doesn't-want-to-be-one and won't believe he can be one anyway, and while it's not a very original position as a main character, it's fun to read because as a reader, we know he has to be the one (at least to some extent, because come on, the book wouldn't be about him anyway) but he keeps refusing it. I also really liked his dad, who believes anything is possible, and Cole, his best friend.
As for the story, I really enjoyed reading it. It's been a while since I last read or watched something related to King Arthur (since it was featured on OUAT I think) and it was really refreshing as I love these tales. I also found that the twist was interesting, and really fitted the original story. It just made sense, I guess.
What else can I say? I really enjoyed reading this book, I always wanted to know what would happen next, and I will have to pick the sequel very soon. The narration was compelling, and the story was full of unexpected twist. I would definitely recommend it!
You will like this if you like:
Arthurian tales, story retellings, and books with a "Chosen One"!