Hi readers! The Diversity Spotlight Thursday is a weekly meme hosted by Aimal on her blog Bookshelves and Paperbacks and since reading diverse books is important to me, I'm now taking part every week.
The rules are simple: in your diversity spotlight post, you share three books
A diverse book you have read and enjoyed
A diverse book that has already been released but you have not read
A diverse book that has not yet been released
If you want to read more about it, you can check out the Announcement Post!
And without further ado, here are my features for this week!
---
A book I have read and loved:
Naughts and Crosses by Malorie Blackman
Genre: YA, Dystopia-ish
My Rating: ★★★★★
I read Naughts and Crosses ages ago, but this is a book I will never forget. It is a book that raises questions about racism and also feminism now that I think of it. In a world divided between Naughts and Crosses depending on the colour of people's skin, Calum and Sephy were practically raised together and developed feeelings for each other. Except Sephy is a Cross, the daughter of a black rich family, while Calum is a Naught, coming from a white poor family.
---
A book on my TBR:
And I Darken by Kiersten White
Genre: YA, Fantasy, Retelling
This book was released in June, and I keep hearing about it ever since. First of all, the cover is gorgeous, but it's not what matters here… And I darken is a retelling of Vlad the Impaler where Vlad is actually a girl, from what I gathered on this book. It features therefore a badass main female character, and apparently a LGBT relationship as well, so I'm definitely going to check it out some day, the sooner the better, as it's making me really curious!
---
A book realeasing soon:
Holding up the Universe by Jennifer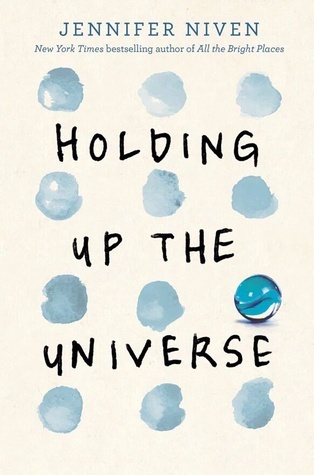 Niven
Genre: YA, Contemporary

Holding up the Universe is Jennifer Niven's second book which will be released in October, and I can't wait! I will definitely get it and read it soon once it is released, because if it's half as powerful as her first book, it will already be amazing. It features a girl who is apparently overweight, and a boy who is losing his sight/can't recognize faces. And these characters are definitely some we don't usually see is books, especially YA, literature, so I'm really curious about this book! Lots of people seems to say it sounds like an offensive book but just wait and read people?! From what I've see, in All the Bright Places, I don't think it will be!
---
And these are my picks for this week! Have you read those books? If so what did you think of them? Feel free to recommend more diverse books in the comments!