Hi readers! The Diversity Spotlight Thursday is a weekly meme hosted by Aimal on her blog Bookshelves and Paperbacks and since reading diverse books is important to me, I'm now taking part every week.
The rules are simple: in your diversity spotlight post, you share three books
A diverse book you have read and enjoyed
A diverse book that has already been released but you have not read
A diverse book that has not yet been released
If you want to read more about it, you can check out the Announcement Post!
And without further ado, here are my features for this week!
---
A book I have read and enjoyed
The Absolutely True Diary of a Part-Time Indian by Sherman Alexie
Genre: YA, Contemporary, Realistic Fiction
Goodreads summary: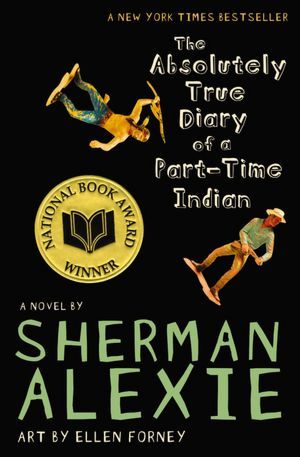 Bestselling author Sherman Alexie tells the story of Junior, a budding cartoonist growing up on the Spokane Indian Reservation. Determined to take his future into his own hands, Junior leaves his troubled school on the rez to attend an all-white farm town high school where the only other Indian is the school mascot.
Heartbreaking, funny, and beautifully written, The Absolutely True Diary of a Part-Time Indian, which is based on the author's own experiences, coupled with poignant drawings by Ellen Forney that reflect the character's art, chronicles the contemporary adolescence of one Native American boy as he attempts to break away from the life he was destined to live.
With a forward by Markus Zusak, interviews with Sherman Alexie and Ellen Forney, and four-color interior art throughout, this edition is perfect for fans and collectors alike.
As you probably guessed from the summary, this book is featuring a Native American character, which is something we don't get to see a lot in literature. I read this book a long time ago but I remember liking it a lot. It's very beautiful and moving, and I would definitely reommend it!
---
A book on my TBR
I am Malala by Malala Yousafzai
Genre: Autobiography
Goodreads summary:
I come from a country that was created at midnight. When I almost died it was just after midday.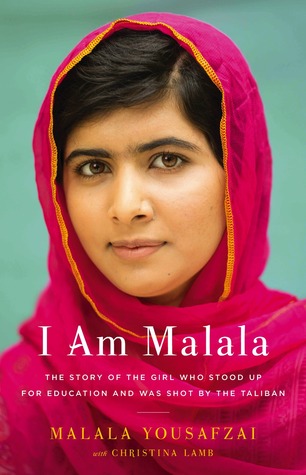 When the Taliban took control of the Swat Valley in Pakistan, one girl spoke out. Malala Yousafzai refused to be silenced and fought for her right to an education.
On Tuesday, October 9, 2012, when she was fifteen, she almost paid the ultimate price. She was shot in the head at point-blank range while riding the bus home from school, and few expected her to survive.
Instead, Malala's miraculous recovery has taken her on an extraordinary journey from a remote valley in northern Pakistan to the halls of the United Nations in New York. At sixteen, she has become a global symbol of peaceful protest and the youngest-ever Nobel Peace Prize laureate.
I Am Malala is the remarkable tale of a family uprooted by global terrorism, of the fight for girls' education, of a father who, himself a school owner, championed and encouraged his daughter to write and attend school, and of brave parents who have a fierce love for their daughter in a society that prizes sons.
I Am Malala will make you believe in the power of one person's voice to inspire change in the world.
I have been eying this book ever since it got out and never got around to read it. I'm sure it must be really interesting and I can't wait to get my hands on it!
---
A book releasing soon
The Animators by Kayla Rae Whitaker
Genre: Adult Fiction, Contemporary
Goodreads summary:

She was the first person to see me as I had always wanted to be seen. It was enough to indebt me to her forever.
At a private East Coast college, two young women meet in art class. Sharon Kisses, quietly ambitious but self-doubting, arrives from rural Kentucky. Mel Vaught, brash, unapologetic, wildly gifted, brings her own brand of hellfire from the backwaters of Florida. Both outsiders, Sharon and Mel become fervent friends, bonding over underground comics and dysfunctional families. Working, absorbing, drinking. Drawing: Mel, to understand her own tumultuous past, and Sharon, to lose herself altogether.
A decade later, Sharon and Mel are an award-winning animation duo, and with the release of their first full-length feature, a fearless look at Mel's childhood, they stand at the cusp of success. But while on tour to promote the film, cracks in their relationship start to form: Sharon begins to feel like a tag-along and suspects that raucous Mel is the real artist. When unexpected tragedy strikes, long-buried resentments rise to the surface, threatening their partnership—and hastening a reckoning no one sees coming.
I am actually reading an ARC copy of this at the moment, thanks to NetGalley, but I thought I might share it on here too. It features LGBT characters, and heroines with a poor background, which we never see enough in literature. It's different from what I usually read, but so far it's really interesting! The Animators is Kayla Rae Whitaker's debut novel, and it will be released on January 31st!
---
And that's it for this week, feel free to recommend some diverse books in the comments!