Hi readers! The Diversity Spotlight Thursday is a weekly meme hosted by Aimal on her blog Bookshelves and Paperbacks and since reading diverse books is important to me, I'm now taking part every week.
The rules are simple: in your diversity spotlight post, you share three books
A diverse book you have read and enjoyed
A diverse book that has already been released but you have not read
A diverse book that has not yet been released
If you want to read more about it, you can check out the Announcement Post!
And without further ado, here are my features for this week!
---
A book I have read and enjoyed
Hamilton: The Musical by Lin Manuel Miranda
Genre: Non Fiction
Why is it diverse? Both because it is different from anything I have read, and because it talks about the representation of POC in the US!
I know I am really late in the Hamilton fandom, but what can I say, I am finally in! As you probably know, Hamilton is a musical about the founding fathers of the United States of America, and this book describes how the musical came to be. It follows Lin Manuel Miranda's journey from his first idea to the final production. The book talks about his ideas, the casting and more. I picked it up because of all the good things I heard about the musical and I'm so glad I did, because it was really interesting! I definitely recommend it to any Hamilton fan, or any person who might be interested in this show and how it was made. (And now I am listening to the songs all the time, because they are so good…)
---
A book on my TBR
The girl from everywhere by Heidi Heilig
It is the book of the month for Aimal's diverse books bookclub on Goodreads but I most likely won't have time nor opportunity to read it this month, so I though I might as well include it in this post since I do want to read it!
Goodreads summary:
Nix has spent her entire life aboard her father's
ship, sailing across the centuries, across the world, across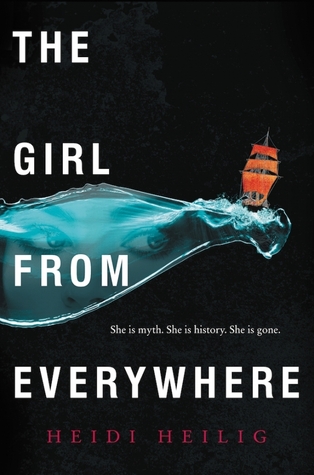 myth and imagination.
As long as her father has a map for it, he can sail to any time, any place, real or imagined: nineteenth-century China, the land from One Thousand and One Nights, a mythic version of Africa. Along the way they have found crewmates and friends, and even a disarming thief who could come to mean much more to Nix.
But the end to it all looms closer every day.
Her father is obsessed with obtaining the one map, 1868 Honolulu, that could take him back to his lost love, Nix's mother. Even though getting it—and going there—could erase Nix's very existence.
For the first time, Nix is entering unknown waters.
She could find herself, find her family, find her own fantastical ability, her own epic love.
Or she could disappear.
---
A book releasing soon
When Dimple met Rishi by Sandhya Menon
Goodreads summary:
Dimple Shah has it all figured out. With graduation behind her, she's more than ready for a break from her family, from Mamma's inexplicable obsession with her finding the "Ideal Indian Husband."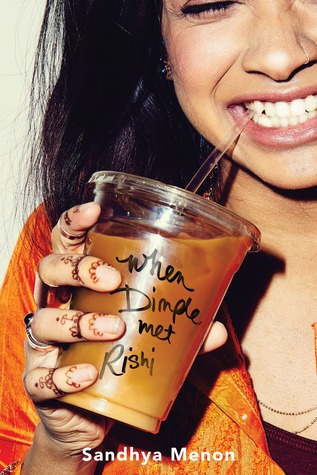 Ugh. Dimple knows they must respect her principles on some level, though. If they truly believed she needed a husband right now, they wouldn't have paid for her to attend a summer program for aspiring web developers…right?
Rishi Patel is a hopeless romantic. So when his parents tell him that his future wife will be attending the same summer program as him—wherein he'll have to woo her—he's totally on board. Because as silly as it sounds to most people in his life, Rishi wants to be arranged, believes in the power of tradition, stability, and being a part of something much bigger than himself.
The Shahs and Patels didn't mean to start turning the wheels on this "suggested arrangement" so early in their children's lives, but when they noticed them both gravitate toward the same summer program, they figured, Why not?
Dimple and Rishi may think they have each other figured out. But when opposites clash, love works hard to prove itself in the most unexpected ways.
When Dimple met Rishi will be released in May of 2017, so that's still a long way to go, but it looks exactly like the kind of book I would enjoy!
---
And that's it for this week! Thank you for reading, and please feel free to recommend me diverse books in the comments!