I am taking a class on Weimar Cinema this semester, and I recently watched Nosferatu, which reminded me than when I asked you guys for recommendations themes, someone suggested vampires… So here we go! I will include both books mainly about vampires, and books that include vampires in a more general supernatural environment. As it turns out, I haven't read that many vampire books, but this was a really fun article to write nevertheless, so thanks for the suggestion! Hope you enjoy!
*****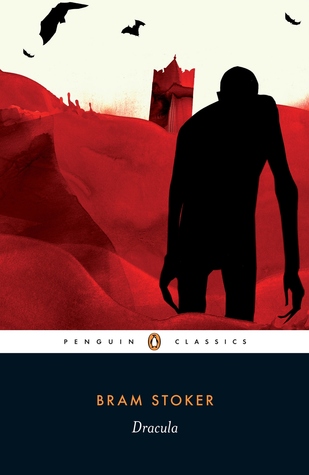 #1 Dracula by Bram Stoker
I couldn't write an article about vampires without mentioning this dense, dark and old classic, obviously. Dracula is the classical vampire tale, featuring the old count from Eastern Europe, who wants to get a beautiful house in England, and travels from his home to his new house in a coffin, to this new town where he will seduce beautiful girls and cause havoc with rats and mortal bites. This book is a dark, mysterious, complex tale, and a must read if you like vampire stories.
#2 Twilight by Stephenie Meyer
Because if you are here for the vampire talk, I have to mention this one right? Whether you like it or not (and I have to say, I really enjoyed it when I read it, I even read it twice in a row the first time…) Twilight is the perfet example of a popular modern vampire story, where Bella, the clumsy, new girl in town falls in love with secretive and mysterious Edward, the handsome boy with the handsome siblings, who sparkles in the sun and turns out to be, of course a vampire…
#3 The Vampire Diaries by L.J. Smith
An other very popular modern vampire story, which has also been turned into a TV show. I have to admit, I only read the first book in this series because I actually didn't like it that much… But if you are into vampire stories, then check it out, what are you waiting for? The Vampire Diaries follows the story of beautiful, popular girl Elena, as she falls in love with the new boy at school, but meanwhile also gets entangled with his mysterious brother. And of course, they hate each other and have vowed revenge.
#4 The Sookie Stackhouse series by Charlaine Harris
This series is unique and excellent, in my opinion (though I have to admit I never finished it…) If you find Twilight or The Vampire Diaries too cliché, then I guarantee this is something you might like, because it is totally different – partly because it is intended for on older audience. Sookie Stackhouse is a waitress in a small town, who can't find a boyfriend because she can read mind, and it always gets in the way. But one day, she meets a dark mysterious stranger, and is driven into a world she didn't expect to exist… Sexy and funny, again, this is something I definitely recommend if you are into vampire stories!
#5 City of Bones by Cassandra Clare
The Mortal Instruments is not essentially about vampires, but I thought I would mention it anyway. If you don't know what this series is about (then first, where have you been living for the past ten years?) it basically follows Clary Fray after her mom gets abducted, and she discovers she can see things others cannot. And that is for a very particular reason: she is a Shadowhunters. And the world is inhabited by demons, creatures of the dark… And vampires, who become a bigger part of Clary's life after they take her best friend Simon hostage.
#6 The Tara Duncan series

by Sophie Audoin-Mamikonian
I had to mention this French series in this article, because I will take any opportunity that I have to promote it on this blog… And of course because it features a great amount of vampires. Well it depends on the volumes of the series. But vampires are still present and important. Nice ones, evil ones, power hungry and blood hungry ones, desperate vampires, and presidential vampires…
#7 Fledgling by Octavia E. Butler
I have only read the first chapters of this one in one of my classes, but I really need to get my hands on the whole book because damn, that story looks interesting. Fledgling follows an amnesiac girl who wakes up in a cave. As she encounters civilisation for the first time (at least that she remember) she finds out that she looks around 12, though she feels much older. And the even stranger things is that she is craving for blood… This book is a mix between fantasy and science fiction, and it looks brilliant. If you have read it, I would love to have your opinion on it!
*****
And that's it for this week, feel free to recommend your favourite vampire stories in the comments, and I hope you're having a great weekend!