I did a part 1 a while ago, where I recommended some of my favourite retellings. I read more since then, and thought I would make a new post featuring more retellings, because I absolutely love this kind of stories!
*****
Song of Princes by Janell Rhiannon:
a retelling of the Trojan war
First book in an upcoming series, Song of Princes takes us back to the Trojan War, but unlike the Iliad and the Odyssey, it follows the Trojans and portrays (more or less) the Greeks as evil. It follows many of the original characters, and really goes in depth with each and every one of them. Beautful, sexy, and hard to put down, this book was fascinating and I can't wait for the sequel. I just couldn't put this book down. You can read my review here!
Intangible by C.A. Gray:
a retelling of King Arthur's story

First book in a trilogy, Intangible is a modern retelling of Arthurian legends. Peter, the main character, doesn't believe in all the stories of magic and penumbra his father has told him while he grew up, until a new girl shows up at school, and he realises that fiction could actually be the truth, and there is more to his life than he ever expected. Especially when people believe he is the reincarnation of a legendary King. Full review here!
Deathless by Kathryn M. Valente:
a retelling of the Russian tale of Koschei the Deathless
One of the most beautiful and fascinating books I have ever read. If you are into Russian folklore, then I would definitely recommend it! It will apparently also have a sequel, which is getting me really excited. Maria Morevna is waiting for the day a bird will fall down from a tree, turn into a handsome young man, and ask for her hand, because this is what happened to her sisters. Except when someone comes to marry her, it none other than Koschei the Deathless, the tsar of life. Deathless is a tale mixing folklore and Russian revolution, and it's an extraordinary read.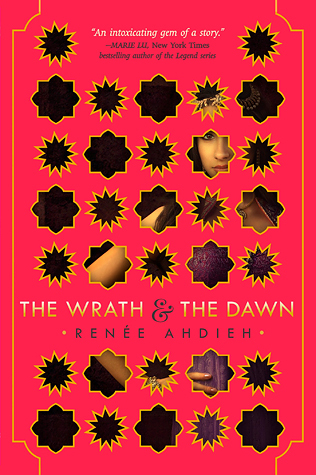 The Wrath and the Dawn by Renee Ahdieh:
a retelling of the Arabian Nights

If you haven't heard of The Wrath and the Dawn, then where on Earth are you living? This book is an amazing, fantasy retelling of the Arabian Nights, following Sharzad, who just lost her best friend when she was called to marry the king and killed the next morning. Sharzad decides to take action and avenge her friend, so she volunteers to be Khalid's next wife, planning to kill him as soon as she can, and first staying alive because of the stories she told him. But she hadn't planned to fall in love with Khalid, who is much more boy and human than she ever expected… I loved this book, and you can read my review here!
Avalon High by Meg Cabot:
another Arthurian retelling
I read this book a very long time ago, but it seems to be one I will never forget. I always wanted to mention it here on the blog, and it seems like this is finally the perfect occasion. Avalon High is a modern retelling of the Arthurian legends, following the reincarnation of the original characters as they go to high school at Avalon High, fall in love, and overall recreate the original tale, while trying to give it a happy ending. If you like Arthurian stories and are up for a light read, then I would definitely recommend this!
Heartless by Marissa Meyer:
a Wonderland retelling
The most recent book on this list, and also Marissa Meyer's newest release! Heartless follows Cath, a young noble girl whose only dream is to open a bakery. However, life has other things in store for her, and on the night the King is supposed to propose to her, she meets Jest, the new Court Joker, and realises that slowly, she is falling in love with him. But we all know that Cath will become the infamous Queen of Hearts, and that this story can't have a happy ending… Review coming soon, this book was amazing!
The Shadow Queen by C.J. Redwyne:
a Snow White retelling
In this high fantasy retelling of Snow White, the kingdom of Ravenspire is ruled by brutal, power-hungry Irina, who got rid of her husband and his family in order to stay on the throne. What she doesn't know is that his chidren have survived, and are planning to take back what is rightly there. Things get complicated when the king of their neighbour kingdom, a half-dragon, plans to ask Irina for help, and she asks him for the heart of her step-daughter… A very interesting retelling, which I definitely recommend for fans of The Lunar Chronicles! Review coming soon!
*****
Thanks for reading and I hope you enjoyed this Sunday post! If you have any retelling to recommend me, please feel free to do so in the comments!