Hi readers! The Diversity Spotlight Thursday is a weekly meme hosted by Aimal on her blog Bookshelves and Paperbacks and since reading diverse books is important to me, I'm trying to take part every week.
The rules are simple: in your diversity spotlight post, you share three books
A diverse book you have read and enjoyed
A diverse book that has already been released but you have not read
A diverse book that has not yet been released
If you want to read more about it, you can check out the Announcement Post!
I'm really sorry I didn't take part the last two weeks, because I really like this meme. But I also want to do it properly, which is why I don't usually manage to post every time… Anyway, I'm also very busy with school and exchange program since… But here are my picks for this week!
---
A book I have read and enjoyed
Aristotle and Dante discover the Secrets of the Universe by Benjamin Alire Saenz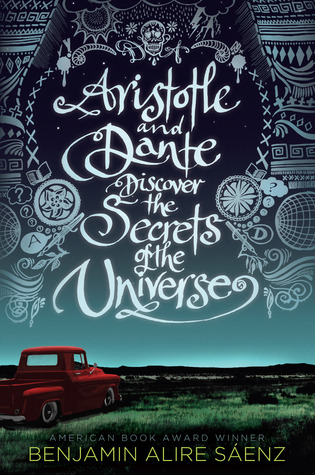 I know I am probably the last person on Earth who read this book, but it was so good, I feel the need to talk about it all the time now. It was also one of the first book I mentioned in this weekly meme as being part of my diverse TBR and I am so glad I finally got around to read it. It was such an emotional and wonderful book, I think everyone should read it!
My rating: ★★★★★
Why is it diverse? It features Mexican-Americans, who I find very rare in YA literature, as well as LGBT+ characters.
Goodreads summary:
Aristotle is an angry teen with a brother in prison. Dante is a know-it-all who has an unusual way of looking at the world. When the two meet at the swimming pool, they seem to have nothing in common. But as the loners start spending time together, they discover that they share a special friendship—the kind that changes lives and lasts a lifetime. And it is through this friendship that Ari and Dante will learn the most important truths about themselves and the kind of people they want to be.
If you have the opportunity to listen to the Audiobook, it is narrated by Lin-Manuel Miranda and it's absolutely wonderful! I will also try to post a review of this very soon!
---
A book on my TBR
The Rest of Us just Live Here by Patrick Ness
Goodreads summary:

What if you aren't the Chosen One? The one who's supposed to fight the zombies, or the soul-eating ghosts, or whatever the heck this new thing is, with the blue lights and the death?
What if you're like Mikey? Who just wants to graduate and go to prom and maybe finally work up the courage to ask Henna out before someone goes and blows up the high school. Again.
Because sometimes there are problems bigger than this week's end of the world, and sometimes you just have to find the extraordinary in your ordinary life.
Even if your best friend is worshipped by mountain lions.
Award-winning writer Patrick Ness's bold and irreverent novel powerfully reminds us that there are many different types of remarkable.
Why is it diverse? It apparently features POC and characters with mental illnesses, and I refinitely want to read more of those.
Why do I want to read this? I absolutely love the concept of this story, I just find it so original and accurate. I have only read one book by Patrick Ness, More Than This, and I absolutely loved it, so I don't see why I wouldn't like this one as well!
---
A book releasing soon
You're Welcome, Universe by Whitney Gardner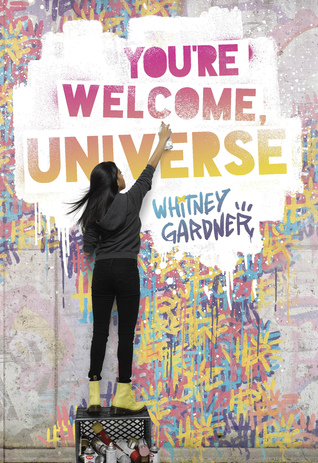 Goodreads summary:
When Julia finds a slur about her best friend scrawled across the back of the Kingston School for the Deaf, she covers it up with a beautiful (albeit illegal) graffiti mural.
Her supposed best friend snitches, the principal expels her, and her two mothers set Julia up with a one-way ticket to a "mainstream" school in the suburbs, where she's treated like an outcast as the only deaf student. The last thing she has left is her art, and not even Banksy himself could convince her to give that up.
Out in the 'burbs, Julia paints anywhere she can, eager to claim some turf of her own. But Julia soon learns that she might not be the only vandal in town. Someone is adding to her tags, making them better, showing off—and showing Julia up in the process. She expected her art might get painted over by cops. But she never imagined getting dragged into a full-blown graffiti war.
This book looks moving and amazing, and I will definitely keep an eye for it! The cover is absolutely gorgeous too!
You're Welcome, Universe will be released in May of 2017.
---
And that's it for today, I hope you enjoyed reading this post! Feel free to share your opinion in the comments if you have read any of the books I mentioned, and have a nice day!