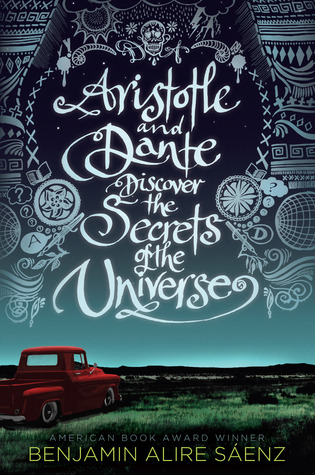 I feel like I am the last person on Earth who has read Aristotle and Dante discover the Secrets of the Universe by Benjamin Alire Sàenz, but it was such an amazing book I still feel the need to write a review of it. I actually listened to it on Audiobook, and it was narrated by Lin-Manuel Miranda, and it probably made the story even better, if that was possible.
Genre: YA, Contemporary
Publication: 2012
My rating: ★★★★★
DEFINITELY RECOMMENDED ♥
The story:
Aristotle is a solitary teenager with his older brother in prison, and the weight of his father's past as a soldier in Vietnam weighing on his shoulders. He is trying to stay busy during the summer, and do whatever he wants.
Dante is the smart and witty son of a professor, another unique teenager with a lot of imagination and ideals.
The two boys meet each other at the swimming pool and eventually spend the rest of the summer hanging out together. But one event following another, they each have to go their own way at the end of summer, not sure if the relationship will hold.
Aristotle and Dante is a wonderful story of coming of age, finding yourself and growing up, which I would pretty much recommend to anyone. Set in the 80s in the South of the US, it follows two teenagers of Mexican descent trying to find themselves and it's absolutely wonderful.
My opinion:
I cried and laughed so much while reading this book, it was really an emotional and wonderful story. In addition – and I know I have already mentioned this – Lin-Manuel Miranda's narration was absolutely amazing.
I haven't read many books set in the 80s, I don't know why I find so little of them. I read Eleanor & Park over the summer, and aside from the story (which I also really liked) I really enjoyed the setting of the 80s, so it was a really nice surprise to find that this book was set in the same decade, because honestly, I didn't really know what to expect when I started it. I just knew that everyone was recommending it, and now I know why, and will also recommend it to everyone.
Aristotle and Dante were both somehow relatable characters, and this is always something I enjoy in a book. I could recognize myself in how they were lost/hesitant. I could recognize myself in their desire for solitude. And I don't know why this is something I always love in books for some reason, I really loved the "learning how to drive" part.
Overall this was both a refreshing read and an extremely emotional ride. And it's definitely a must read.