Hi readers! The Diversity Spotlight Thursday is a weekly meme hosted by Aimal on her blog Bookshelves and Paperbacks and since reading diverse books is important to me, I'm trying to take part every week.
The rules are simple: in your diversity spotlight post, you share three books
A diverse book you have read and enjoyed
A diverse book that has already been released but you have not read
A diverse book that has not yet been released
If you want to read more about it, you can check out the Announcement Post!
---
A book I have read and enjoyed
The Song of Achilles by Madeline Miller
Genre: New Adult, Fantasy, Retelling
I read The Song of Achilles back in December and I promise I will review it here very soon. In the meantime, I am including it in this feature because it deserves a spot here! If you like mythology retellings and are looking for LGBTQ (M/M) reads then this is definitely something I would recommend. However, I also heard that this book had received bad critics from the LGBT+ community, so if you think the representation is not accurate, something is not right with this book, please let me know in the comments, I am always interested.
Anyway, the plot in a nutshell: The Song of Achilles, as you probably guessed from the title, follows Greek hero Achilles, before and during the Trojan war. The story is told from the eyes of his faithful companion and lover Patroclus, in a very poetic way. If you know the story of the Trojan war, this book won't have much surprises in store for you, however, I still thought it was a very good and enjoyable retelling!
---
A book on my TBR
Iron Cast by Destiny Soria
Genre: YA, Fantasy, Historical Fiction
How gorgeous is that cover??
Goodreads summary:
In 1919, Ada Navarra—the intrepid daughter of immigrants—and Corinne Wells—a spunky, devil-may-care heiress—make an unlikely pair. But at the Cast Iron nightclub in Boston, anything and everything is possible. At night, on stage together, the two best friends, whose "afflicted" blood gives them the ability to create illusions through art, weave magic under the employ of Johnny Dervish, the club's owner and a notorious gangster. By day, Ada and Corinne use these same skills to con the city's elite in an attempt to keep the club afloat.
When a "job" goes awry and Ada is imprisoned, she realizes they're on the precipice of danger. Only Corinne—her partner in crime—can break her out of Haversham Asylum. But once Ada is out, they face betrayal at every turn.
---
A book releasing soon
We Are Okay by Nina LaCour
Genre: YA, Contemporary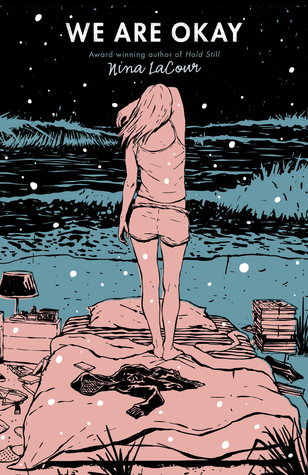 Goodreads summary:
"You go through life thinking there's so much you need. . . . Until you leave with only your phone, your wallet, and a picture of your mother."
Marin hasn't spoken to anyone from her old life since the day she left everything behind. No one knows the truth about those final weeks. Not even her best friend Mabel. But even thousands of miles away from the California coast, at college in New York, Marin still feels the pull of the life and tragedy she's tried to outrun. Now, months later, alone in an emptied dorm for winter break, Marin waits. Mabel is coming to visit and Marin will be forced to face everything that's been left unsaid and finally confront the loneliness that has made a home in her heart.
Release date: February 14th
---
And that's all for this week's Diversity Spotlight Thursday! I hope you enjoyed, feel to recommend me more diverse books in the comments, or give a link to your own Diversity Spotlight post as I love fnding out about new books I haven't heard of!