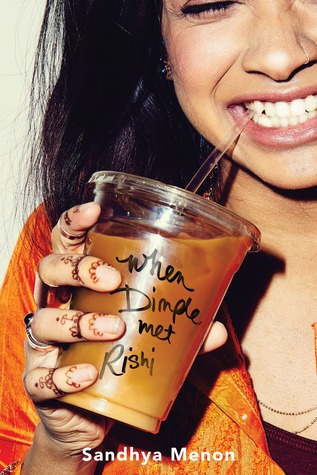 When Dimple Met Rishi was one of my most anticipated releases for this year, and oh boy, I wasn't disappointed! It was also our book of the month on the Booktube Book Club, feel free to join us for the discussion, all the information is here.
And first of all, how adorable is that cover?? ♥
Author: Sandhya Menon
Genre: YA, Contemporary, Romance
Publication: May 30th 2017
My rating: ★★★★★
The story:
Dimple Shah just graduated high school, and has a passion for coding. She is getting ready to attend Stanford in the fall, and wants to attend a special coding course during the summer. Except her mom's biggest ambition seems to be to see her wearing makeup and find the Ideal Indian Husband.
Rishi Patel has been raised in a traditional Indian family, though he was born and raised in the US, and he deeply respects his parents wishes. He loves drawing comics, but agrees with his father that it will not provide him with a career. He is ready for his parents to set up a perfect wedding for him.
The Shah and the Patel have always thought their kids could get married, and the summer coding programm at Stanford university seems like the perfect opportunity for them to meet up and set things in process. Except personalities are about to clash, and who knows what's about to happen…
My opinion:
This was such a beautiful, delicate and refreshing romance story. I have to say, I have a sweet tooth for romance, but it's not always that I love a book this much. This book is bright and moving, and would make a perfect summer read: I definitely recommend you check it out!
Dimple is such a fierce character, she knows what she wants, but we also see her evolving, getting to take more things into account through the novel, and it was very interesting. To some extent, this can be a coming of age story, where she is right between high school and college. This is such an important time in one's life, and it was a really great idea to set the book at this point in her life. Dimple is passionate about what she likes – coding – and wants to be the best. She can't be bothered with makeup, and doesn't understand her mom's persistance with finding the Ideal Indian Husband.
So obviously, when she meets Rishi, who thinks an arranged marriage is the best possible plan, and wants to follow his parents' will, things clash. However, as they get to know each other, they discover they may have more in common than they expected at first.
I felt like their relationship was really well built. They form a very strong friendship, and support each other – even if they also hide things from one another. It just made the book all the more realistic. I can't help but think that the word "delicate" is a perfect word to describe this book. It was such an amazing and beautiful read from beginning to end.
Let's talk a bit more about the other characters, shall we?
I also really liked Celia's character, who is Dimple's friend and roommate. She struggles with friendship and her desire to be popular and accepted. I thought her character was really realistic and beautiful. She was really a great addition to the story.
And then there's Ashish, Rishi's brother, who is his polar opposite, and keeps calling him out about everything he likes, stands for, or wants to do. The relationship between both brothers is a difficult one at first, but we see that evolving through the book, as they both grow up and get to understand each other more. And I loved it.
One more character I wanted to discuss is Dimple's mom. She is a talkative, lively mom, who wants nothing more than to have her daughter find the perfect husband. She doesn't understand why her daughter can't bother to be more feminine. Dimple and her mom argue a lot, and can't seem to understand each other at all. But through the book, obviously, we see things evolve, and it was really great and moving to see two different women's point of view, and the evolving relationship between a mother and a daughter.
I feel that there is so much more to discuss about this book, but I don't really know how. It left me with a lot of feelings, and it was very hard to put it down. I just don't know how to translate that into words. So I'm just going to say that: I loved this book.
Overall, this is a great novel with great character developments coming from basically all the characters, which is amazing. It is a beautiful, relatable, swoon-worthy romance with unique characters. Your perfect summer read. I definitely recommend you check it out!
Let me know your thoughts if you have read this book, and I hope you enjoyed this review! Let me know also if you feel there are other things I should have addressed in this article. And have a wonderful day ♥