Flame in the Mist is Renee Ahdieh's new novel. You might know her from her duology The Wrath and the Dawn which was a retelling of the Arabian Nights (review), but this time, the story is set in Japan, and follows the daughter of a samurai… And it's just as great.
Author: Renee Ahdieh
Genre: YA, Historical Fiction (bits of Romance and Fantasy)
Publication: May 2017
Rating: ★★★★☆
The story:
Flame in the Mist follows Mariko, the 17 year old daughter of a samurai, who is attacked on her way to the capital where she was supposed to marry royalty. She fakes her own death and goes in hiding, deciding to take revenge on the Black Clan, responsible for the deaths of her people. Hiding in the forest as a boy, she finds a freedom she never had as a girl, and manages to infiltrate the Black Clan, where she soon befriends the cook and attracts the wrath – and more ? – of the clan leader's right hand, a mysterious boy nicknamed the Wolf.
My thoughts:
First of all, I wanted to mention how gorgeous this cover is. Now that I have said it, I can move on to the actual story. (But really. It's one of the prettiest covers I have ever seen.)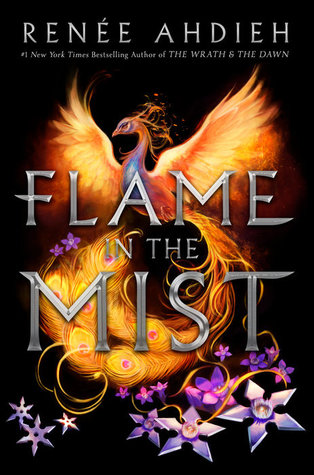 Might contain spoilers!
Now, onto the story. I have heard this book marketted as a Mulan retelling for some reason but I did not mention it in the synopsis, because I personally think it's wrong. Mulan is set in China, while Flame in the Mist is set in Japan (and later in time I believe). Mulan is the single daughter of an old man who is too old to fight, while Mariko has healthy parents and a twin brother more than able to fight. Mulan infiltrates the army to replace her father and defend her country, while Mariko infiltrates a gang of outlaws for completely different reasons – survival, revenge, and a need to prove herself. So really, the only thing they have in common is a girl crossdressing as a boy, and honestly, that is not enough to consider this book a retelling of Mulan in my opinion. If you go into this book looking for a retelling of Mulan, you will probably be disappointed. However, that left aside, it's an amazing book.
The second thing I wanted to address is the fact that this really gave me some Asian drama vibes which I really enjoyed. Of course, this makes sense since the story is set in Japan. But I have also watched quite a few (Korean or Japanese) dramas where the female lead is crossdressing as a male, and lives in a guys only environment (Hana Kimi, Ikemen Desu Ne…). Same with some mangas and manhwas I have read (Idol Shopping, Love in the Mask…) So I guess this rang a bit the same. And I really liked it.
I think Mariko was a really interesting character. She is a rather badass girl, who tries her best but still remains human. I also really liked the other characters such as Okami, Renmaru, Ren, Yoshi… Though I didn't really like Mariko's brother Kenshin.
The universe was really nice, and changed from what I usually read. I need more books like this, honestly.
The story line especially in the second part reminded me a lot of The Wrath and the Dawn/The Rose and the Dagger in the way that the main character starts to feel empathy for those she considered her enemies and infiltrated in order to get her revenge. Just like Sharzad, she realises she might have been wrong, that there might be more to the story, and that there is another enemy somewhere else. Love gets in the way. And then she realises there is also more to her family than she expected at first. And for some reason, this kind of plot really works for me, so I loved it.
I also really enjoyed the fact that we didn't get the story only from Mariko's point of view, but also from Kenshin's and the Emperor, which allows the reader to know a bit more than the characters, and makes the story even more interesting.
Overall, I thought that Flame in the Mist had a pretty basic plot but still a very enjoyable one, as well as some great twists. I knew something was up, but I couldn't really piece up what, and the ending left me with so many questions. I can't wait for the sequel!
Let me know your thoughts in the comments if you have read this book as well!