Hi readers! The Diversity Spotlight Thursday is a weekly meme which was created by Aimal on her blog Bookshelves and Paperbacks and you are welcome to participate as well.
The rules are simple: in your diversity spotlight post, you share three books
A diverse book you have read and enjoyed
A diverse book that has already been released but you have not read
A diverse book that has not yet been released
I haven't done a Diversity Spotlight Thursday in forever, but I'm trying to read more and more diverse books, and I love it. I'm also trying to read all the books I mentioned previously on the TBR part of my previous spotlight posts, and it works sometimes well, sometimes not at all because I'm also a lot busy… But we'll get there. So here we go for this week!
---
A Book I Have Read And Enjoyed
Beautiful Broken Things by Sara Barnard
For this part I decided to talk about a book with a subject that is very important to me: mental illness. You can check out my review of Beautiful Broken Things here, I really think this book is important, and it talks about issues often considered taboo by our society. I liked the fact that this book shows how important and amazing friendship can be. It doesn't contain any romance (as a main focus at least). And it felt realistic from beginning to end.
Publication: 2016
Genre: YA, Contemporary
Why is it diverse? Includes several characters with mental illness
My blurb:
Caddy and Rosie have always been best friends, and as far as Caddy was concerned, she didn't need other friends. Of course, she had a small group of girls she would hang aroud with at school, but no one as dear as Rosie, even if they didn't attend the same school, and Rosie was much more extroverted than her.
A new school year starts, and Caddy makes plans, to meet boys, become less of an introvert, or have a life changing event. Rosie in the meantime becomes very close to new girl Suzanne, and wants more than everything for Suzanne and Caddy to become friends as well.
Suzanne is beautiful and mysterious and Caddy wants to be more like her. She also believes that Suzanne is hiding something, but when she finds out what she realises she didn't expect that at all. It's something bigger than her, something that might change her life as well.
---
A Book On My TBR
She Wore Red Trainers by Na'ima B. Robert
I found out about this book on Reg @Shelatitude's blog, and I have to say it looks right up my alley, and I'm really curious.
Publication: 2014
Genre: YA, Contemporary, Romance
Why is it diverse? Muslim protagonist, Own Voice
Goodreads summary:
When Ali first meets Amirah, he notices everything about her—her hijab, her long eyelashes and her red trainers—in the time it takes to have one look, before lowering his gaze. And, although Ali is still coming to terms with the loss of his mother and exploring his identity as a Muslim, and although Amirah has sworn never to get married, they can't stop thinking about each other. Can Ali and Amirah ever have a halal "happily ever after"?
---
A Book Releasing Soon
The Gentleman's Guide to Vice and Virtue by Mackenzi Lee
I keep hearing about this book everywhere, and what can I say, it looks fantastic!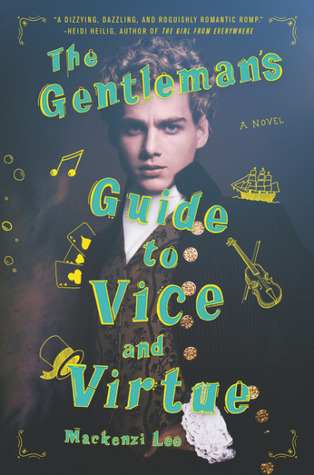 Publication: June 27th/August 10th
Genre: YA, Historical Fiction
Why is it diverse? Gay MC
Goodreads summary:
An unforgettable tale of two friends on their Grand Tour of 18th-century Europe who stumble upon a magical artifact that leads them from Paris to Venice in a dangerous manhunt, fighting pirates, highwaymen, and their feelings for each other along the way.
Henry "Monty" Montague was born and bred to be a gentleman, but he was never one to be tamed. The finest boarding schools in England and the constant disapproval of his father haven't been able to curb any of his roguish passions—not for gambling halls, late nights spent with a bottle of spirits, or waking up in the arms of women or men.
But as Monty embarks on his grand tour of Europe, his quest for a life filled with pleasure and vice is in danger of coming to an end. Not only does his father expect him to take over the family's estate upon his return, but Monty is also nursing an impossible crush on his best friend and traveling companion, Percy.
Still it isn't in Monty's nature to give up. Even with his younger sister, Felicity, in tow, he vows to make this yearlong escapade one last hedonistic hurrah and flirt with Percy from Paris to Rome. But when one of Monty's reckless decisions turns their trip abroad into a harrowing manhunt that spans across Europe, it calls into question everything he knows, including his relationship with the boy he adores.
Witty, romantic, and intriguing at every turn, The Gentleman's Guide to Vice and Virtue is a sumptuous romp that explores the undeniably fine lines between friendship and love.
---
That's it for this week, I hope you enjoyed, and feel free to share your favourite diverse reads in the comments!
I talk about some other diverse books in my latest video here if you want to watch it!
Have a wonderful day ♥