Teaser Tuesday is a weekly bookish meme is hosted by Ambrosia from The Purple Booker.
1. Grab your current read
2. Open to a random page
3. Share two (2) "teaser" sentences from somewhere on that page. BE CAREFUL NOT TO INCLUDE SPOILERS! (make sure that what you share doesn't give too much away! You don't want to ruin the book for others!)
4. Share the title & author, too, so that other TT participants can add the book to their TBR Lists if they like your teasers!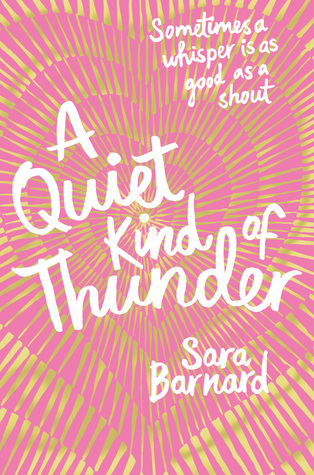 I'm currently reading A Quiet Kind of Thunder by Sara Barnard and I really like it so far so I thought it would be a perfect idea to promote it in this week's Teaser Tuesday!
Genre: YA, Contemporary, Romance
Mental Illness and Disability
My quote:
"I'm really not disapproving. Just… cautious. Protective. That's the best friend prerogative, right?" – p.62
Published on January 12th